Start With End State

Before we get into details on what is a value chain and how to move up a training value chain, I thought we begin with the end state first. Let us imagine what success looks like if we are at the top of the training value chain. I believe it would look like the following if you are working in an organization of over 500 employees. The organization's managing director says to all of his or her direct staff 'you cannot implement any change in our organization without going through our training manager. Please consult with our training manager of any plans that you have that will result in any change to the organization.' As the organization's training manager, you are always invited to consult with the HR manager and the Managing Director on the strategic business plans and are the organizer and facilitator of the organization's regular strategic business plans development and reviews. Because of your first hand knowledge of the business plans, the business challenges, the strengths and weaknesses of the organization, training solutions are always just-in-time and relevant. Due to your knowledge and competencies, you have often offered non-training solutions or interventions that are usually listened to and often used. Training is deemed as an integral and strategic part of the organization fabric and is recognized as value-add. What do you think of this end state? You ask is this possible? Yes it is possible and there are many who have accomplished this. So can you.
What is Value Chain?

Let us start with an understanding of the value chain. An example is to look at a supply chain and analyze how much value is added during the various stages from, for example, purchase of raw materials to sale of finished product. The end state I described above is at the top of the training value chain because the role and the solutions offered by the training manager are hitting the business results. The reputation of the training manager and the training organization is one of 'change agent' and is looked upon as business solutions provider. To move up the value chain it is imperative that one reduces or minimizes the non-added value elements of the role as much as possible and focus on providing value-added services and products. Value add in the training world is seen as having impact on the business results or on the organization results.
Training Value Chain

Let's build the Training Value Chain. I believe the key roles in the value chain are – Administrator, Integrator, Designer, and Consultant. At the same time, the ability to control the following elements will also allow the training practitioner to move himself/herself and the organization up the value chain – Direction, Design, Development and Consulting.
Administrator bucket is one where there is no control of direction and design & development resources. There is no in-house training design or development. Training does not happen that often, budget is limited and there might be an occasional budget for attending some seminars or conferences. Training is job specific and skills-based. It is obvious that the people in this bucket do not have a lot of say in the direction of training.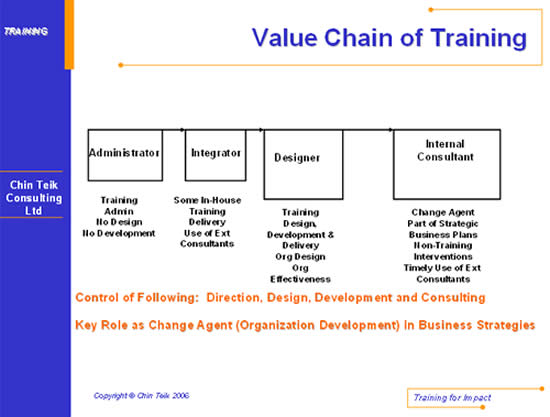 Integrator bucket is one where the training folks try to integrate where they can between what is available in-house and external. They cut and paste what they can to offer training to meet the organization's expectations, which is often not that clear. The integrators are not involved directly on the business strategies and thus the training direction. Most often they are told last minute what is needed and they source what they can internally and externally to meet the expectations. There might be some evaluation at Kirkpatrick's level 2 (Knowledge Gain) but is typically all level 1 (Happy Test).

Dr. Kirkpatrick talked about the 4 levels of training effectiveness in his 'Training For Impact' book. Level 1 is 'happy test' which is the evaluation of trainer and administration of a training class. Level 2 is 'knowledge gain' which can be derived from pre and post test to see the positive difference after attending a training class. Level 3 is 'behavior change' and whether the training program has resulted in change in behavior. Level 4 is 'ROI – return on investment' which simply says that if you spent $100 on training, you should be getting back $150 in terms of business impact.

Designer bucket is one where there is slightly more control over direction, design and development and delivery. Solutions start to move from training of individuals and groups to interventions at the organization level. There is some mixture of training and OD folks but there may not be clarity in terms of how the two complement each other for the best of the organization. Evaluation is almost at Kirkpatrick's level 3. Training needs analysis (TNA) is done more regularly (minimum is annual).

Internal Consultant bucket is the highest level of the value chain. The solutions are now more non-training solutions i.e. setting up the structure and system to get the best of the training solutions for the organization. Focus is on more non-training interventions at the senior management level working on management system and structure to use data and feedback for performance management. The more the senior management team grows (leadership development and effectiveness) the more the organization grows. Evaluation is at Kirkpatrick's Level 3 (Behavior Change) and 4 (ROI). Typically at this level, it is recognized that any work to try and measure ROI of non-training interventions is almost a rhetorical exercise.



Assessing Where Are You In The Value Chain

Please take a few minutes to assess where you are in this value chain.
Grouping: Which group are you in today and where do you want to be tomorrow? Do you know what current strengths you can leverage on and the gaps you need to close to move closer to the final end state?


Control: Assess what levels of control you have over direction of training (in relation to business strategies and results), design and development resources. How are you and your organization involved in the business strategic planning discussions? Where are you today? Where do you want to be tomorrow?


Evaluation: What levels of assessment do you do for your training programs? Where are you today and where do you want to be?


Non-Training Interventions: Think of how much you and your organization are involved with non-training interventions that is highly regarded by management? How much are you involved in facilitating the evolution of the organization's management system? How much are you involved in working with management on the use of data for performance feedback and how is this tied to the reward structure?
In the next article 'Moving Up The Training Value Chain II – Training Strategies For Organizational Impact', I will share what are the steps a training practitioner can take to move over time through the value chain.

About The Author:

Cheah Chin Teik is founder and President of Chin Teik Consulting Ltd., based in Hong Kong. Chin Teik is an experienced coach in organizational and leadership effectiveness for business results, scale-ability and sustainability via alignment and engagement of entire workforce. Chin Teik facilitates senior executive and/or executive teams to a clearer understanding of their leadership behavior while embedding a system of management practices to deliver business results.

Renowned worldwide for his dynamic and intuitive consulting process, Chin Teik's specialization areas are executive coaching and/or executive team coaching on strategic planning system and process, organization effectiveness, leadership and management development and system of management implementation. Chin Teik also specializes in enabling 'HR and Training strategies for organizational impact' and implementing 'Continuous Improvement Process'. Chin Teik's coaching and consulting efforts cut across a wide range of industries from Legal, Water Utility, Elevator, Oil & Gas, Advertising, Packaging, Precision Engineering and Semiconductor

A charismatic global leader, Chin Teik has amassed invaluable experience in manufacturing, training & development, total quality management and over 28 years of experience playing critical human resource roles in Intel on a regional and global scale. Chin Teik has to his credit the prestige of setting up the first-ever 10, 000 sq. ft. Intel University Training Center to deliver 'Transformation of Workforce' program to entire factory. Chin Teik also played an instrumental role in the founding of the Penang Skills Development Center.

Chin Teik can be reached at chin.teik@chinteik.com.